Dateline Nov. 11, 2022
Tilray Brands, Inc., a global cannabis product manufacturer, distributor, and promotor of a cannabinoid empire of lifestyle and wellness and Charlotte's Web Holdings, Inc, the largest producer of CBD hemp extract wellness products in America have come to an agreement using the most beneficial features of both to engage in growing CBD and cannabinoid commerce in North America and the rest of the world.
The recent alliance between these two Canadian cannabis giants appears to be yet another merger in the marijuana space, an additional strong indicator of the growing legitimacy of the storied plant as it sheds its' stigmatic moniker, but it has a much broader and deeper meaning to countless people.
A cursory peek illustrates the blending of the talents of two companies but if we look under the surface, there lies a profound and humanistic meaning to those firmly enmeshed in the cannabis space.
Just as marijuana was lumped in with much harsher drugs such as cocaine and morphine a century ago, so it finds itself again in a similar situation as many will try to persuade the public to associate it with the Big Three of Alcohol, Tobacco, and Pharma.
But unlike these intoxicating and addictive behemoths, cannabis also offers up almost unending benefits in terms of health and wellness. Its time has finally arrived to shine as a healer for the human condition.
Physicians have come to realize the 12th human system of endocannabinoids is vital to good health and the human body wants and needs these trace cannabinoids as much as it needs small amounts of zinc, vitamins, salt and other elements and minerals found in nature to survive and thrive.
Change the World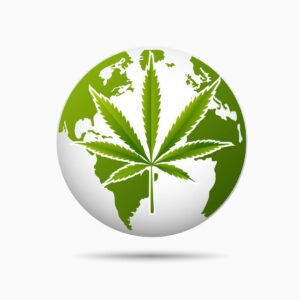 We at Hemp Synergistics can observe the unmistakable evidence leading to the inevitable conclusion that the advancement towards total legalization of cannabis is nearing its apex.
The truly profound meaning behind the association of Tilray and Charlotte's Web is that hemp extract wellness products previously only available to Canadian families qualified for special access medical exemptions are now freed from that archaic requirement and can finally get the relief they have sought for so long.
Major industrialized countries like Germany and Costa Rica have seen the light and are on course for full legalization in 2023, joining the many nations around the world that have already legitimized marijuana.
U.S. President Biden finally kept his campaign promises to Americans with immediate pardons for those convicted of possessing small amounts of marijuana and every indication is that he will continue to push this agenda and support the movement for total legalization at the federal level during his term in office.
For the first time in history most Americans now strongly believe marijuana should be fully legalized.
In fact, the under 55 crowd doesn't even remember a time when walking down the street with a joint in your pocket could land you behind bars for decades!
Investments are Rooted in Knowledge and Timing
Marijuana mergers and acquisitions are heating up to a slow boil, harkening back to the sky high pre-COVID expectations for what promised to be an explosive market and huge boon for investors.
It's become clear to us that serious investors can finally see the light at the end of the tunnel and that the cannabis industry is moving up in terms of social acceptability and full government recognition.
For example, Canopy Growth, the well-know Canadian Cannabis giant, is amid a gargantuan resurgence with a 16% surge within the past month. Balanced against a disastrous 2020-2021 that saw an 84% stock tumble for some investors, this more-than-modest increase may not look so significant however if one looks back at the COVID pandemic followed by an economic downturn, it is indeed fantastic news.
Perhaps the most encouraging news is that as expected, the two most populous states with marijuana initiatives on the ballot both passed the vote and will shortly legalize marijuana possession and use by those over 21 years of age. In Maryland an overwhelming 65% majority cast affirmative votes while Missouri's marijuana initiative also passed, albeit by a closer margin. Marijuana initiatives were narrowly voted down in the modestly populated and extremely conservative states of North and South Dakota and Arkansas. They just barely averted legalization, a telltale sign that times are definitely changing.
With the addition of states #20 and #21 to the mission of nationwide recreational legalization, it's become clear that the trend will continue. The loss in states that traditionally are the last holdouts to embrace change, it is also obvious that at some point they too will capitulate to the will of the people.
Why is Bio-Dri™ Powder so Important?
The key for any successful firm in the cannabis industry today is the ability to produce a quality CBD ingredient or product as the market is overloaded with sub-standard CBD products.
From physicians to sports stars to celebrities, cannabinoids have been a hot topic due to an amazing range of beneficial therapeutic applications.  Widely recognized as a better delivery method, these plant-based compounds in powder form offer real advantages.
Hemp Synergistics is an elite biotechnology firm years ahead of the competition and produces the ground-breaking Bio-Dri™, the most effective CBD and cannabinoid delivery system on the planet.
Bio-Dri™ is totally all-natural powder made from cannabinoids without harsh and toxic chemicals typically found in nano emulsified powders. Fully water soluble, virtually taste and odor free, Bio-Dri™ can easily be added to any food or beverage without affecting flavor or smell. This innovative powder extends shelf life over legacy forms while keeping cannabinoids both potent and effective.
Bio-Dri™ powders are remarkably effective, come in varying concentrations as required, and our industry best scientists can customize each formula to meet your specific needs, a real manufacturer's delight.
Learn more about Bio-Dri™   https://hempsynergistics.com/bio-dri-broad-spectrum-powder/
Why Choose Hemp Synergistics?
Hemp Synergistics was founded on the ideals that corporations and industry leaders can have strong humanitarian and community improvement goals without sacrificing profits and sustainability and be successful and rewarding on the world market stage.
One of the most lucrative target companies in the cannabis space, Hemp Synergists boasts highly knowledgeable and experienced executives guided by a visionary Fortune 100 CEO. This solid firm has successfully weathered the recent economic storm by staying on a fiscally conservative course and has one of the top scientific teams in the industry, an essential service for producers bent on complying with stringent legal regulations regarding THC content in their products.
Bio-Dri™ is renown in manufacturing circles worldwide for ease of use, no sticky residue and an efficacy that far surpasses anything else on the market today. Bio-Dri™, along with a stunning lineup of patent-pending next generation technology CBD, cannabinoid and other hemp-based products and ingredients, are made exclusively by Hemp Synergistics.
We encourage people from all walks of life and different viewpoints to look at the cannabis space in the same way investors foresaw great profits to be found by savvy investment during the infancy of cell phones, smart TVs, online shopping giants and ride sharing companies before they reached full maturity.
Hemp Synergistics continues to climb the ranks of the hemp industry to elite status through a sane fiscal approach, excellent planning and execution, a commitment to produce lucrative top ingredients and products. This firm is ripe for investors interested in a smart, well-run startup with a string of impressive successes and the potential to become one of the most profitable investments in the cannabis arena.
Learn more about investments in Hemp Synergistics here: https://hempsynergistics.com/invest/