This press release has been translated from the original Japanese press release by Next Gen. Imports.
Dear Members of the Press, August 27, 2022
Next Gen. Imports, LLC
Achieved through an exclusive contract with the best hemp technology company in the United States!
State-of-the-art & high-quality "THC Remediation Service"
~ A strong ally for more Japanese to enjoy hemp products with peace of mind ~
Background of the exclusive contract with Hemp Synergistics
In recent years, the hemp industry has been booming internationally due to expectations for beauty and health, and there is a wide variety of related products. In Japan, many of these products cannot be imported due to regulations on THC (Tetrahydrocannabinol). There are many reasons we have made necessary arrangements so that we can import products that comply with laws and regulations in Japan.
In recent years, there has been a growing demand for superior technology to remove THC without damaging the ingredients. Next Gen Imports is determined to provide the highest quality THC-free ingredients and consumer products. We have signed an exclusive contract with Hemp Synergistics, a US biotechnology company. We have started offering "THC Remediation Service" so that we can deliver our products to people with peace of mind.
Hemp and cannabis are famous for recreational use. Cannabis is considered hemp when it has a THC content of less than 0.3%. Because of its main ingredient and its uplifting psychoactive properties, it is heavily regulated in Japan even for medical purposes.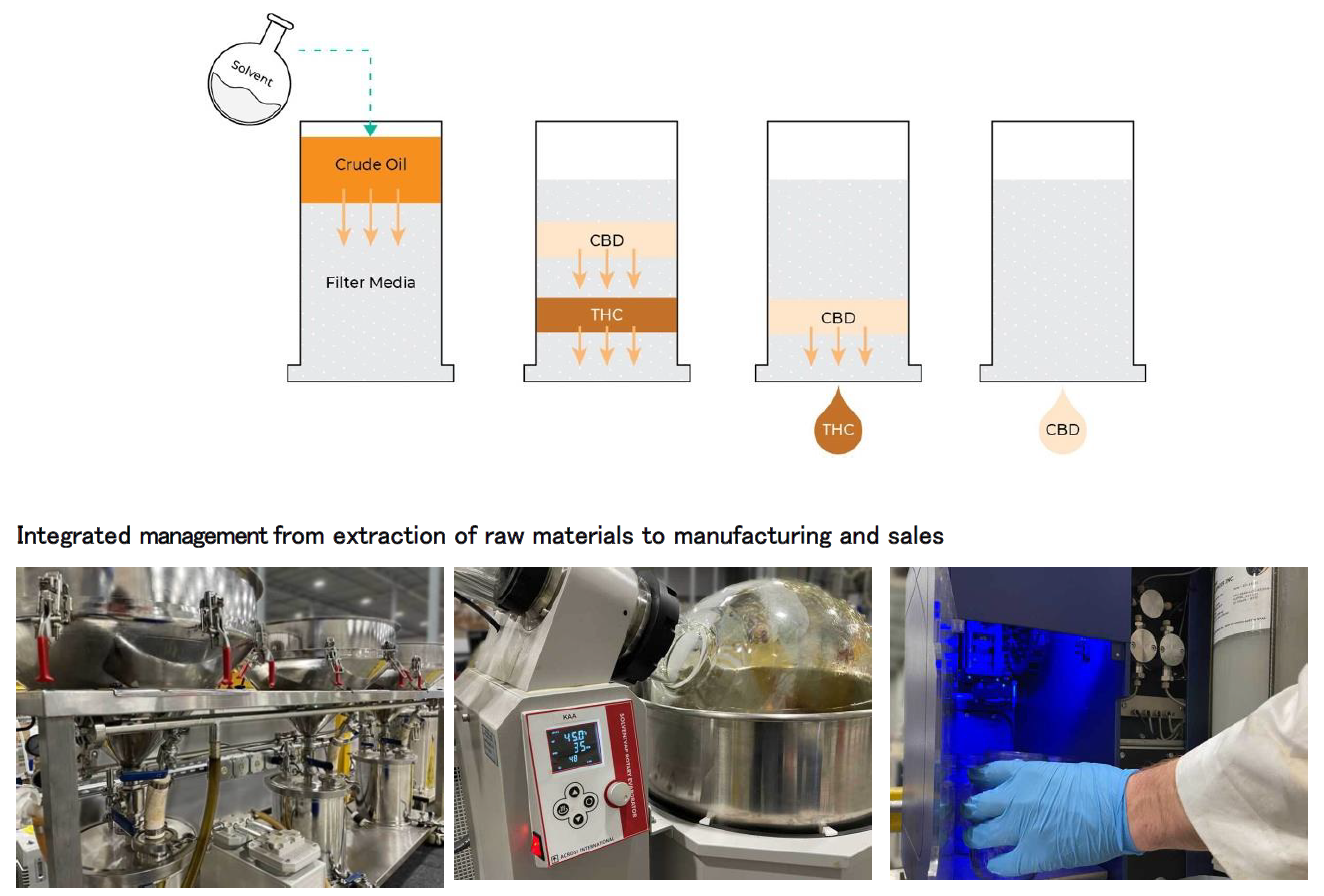 Features of Hemp Synergistics
Provides industry-leading "THC remediation services"
Comprehensive management from raw material extraction to manufacturing and sales.
Registered with the US Food and Drug Administration (FDA)
GMP certified and cGMP compliant
Organic certified
Awarded 2022 Best Hemp Technology Company
THC remediation is the process of removing or reducing illegal constituents such as THC from cannabis-derived products and extracts. THC is separated from hemp extract oil using reversed-phase chromatography in a GMP certified laboratory. We will process it into a product that complies with regulations.
It's expensive, but they are capable of removing 99.9% of THC. Therefore, it complies with strict international standards. With these approvals, we have high technical capabilities in extraction/manufacturing, raw material processing, and commercialization of THC-free products.
Since the extraction of raw materials, manufacturing, and sales can be performed in one go, quality control is meticulous and customer-oriented. Custom formulations are also possible. We handle a wide range of products from crude oil (raw oil) to isolates. As a result of our dedication to harnessing the world's most innovative cannabis industry start-ups, we are uniquely positioned as industry thought leaders.
Order information
Minimum order quantity: 1kg
Delivery time: 1 to 2 months
Available raw materials: crude oil, distillate oil, isolate
Other Services Provided: Processing of hemp raw materials into crude oil, distillate oil, isolate and consumer manufacturing products.
A Note From The CEO of Hemp Synergistics
"Greetings from Dan Kohler, CEO of Hemp Synergistics We at Hemp Synergistics are the industry leading THC remediation service. We offer a wide range of custom formulations, cutting-edge ingredients and products for our customers.
We work with a wide range of effective and successful products including baked goods, beverages and supplements powered by our proprietary Bio-Dry CBD powder (patent pending). We are working on unique issues every day. We signed a partnership agreement with a strong sense of professionalism, energy and commitment between the two parties.
I am very happy to be able to create the bond. The synergies between Next Gen and Hemp Synergistics are limitless and open up important new markets. Built on mutual goals to achieve "genuine success", we look forward to bringing our services to everyone in Japan through this partnership."
Hemp Synergistics LLC Company Profile
Address: 866 Avenue A, Building 25, Leetsdale, PA 15056
Established: 2017
HP: www.hempsynergistics.com
Representative: Daniel Kohler
Business: THC-free raw material extraction, development and sales of consumer products
Next Gen. Imports, LLC company profile
Location 307 Higashikanda Building, 3-21-5 Kanda Sakuma-cho, Chiyoda-ku, Tokyo 101-0025
Established: October 2020